Laser Coating Removal Robot (LCR)
A World's First
Today many maintenance depots and specialized paint shops remove paint and coatings from aircraft and helicopters by using methods such as chemical removers, abrasive sanding or plastic media blasting. These methods have in common that they are costly, time consuming, ergonomically unsafe, and produce large amounts of hazardous waste and emissions. Composite structures in new aircraft design will no longer allow the use of chemicals and the application of complex primers. Coating paint systems require more accurate and controlled methods that allow for selective removal of layers of paint without damaging the underlying layers.
The Laser Coating Removal Robot (LCR) is a state-of-the-art, sustainable, high performance paint stripping solution for all types of commercial and military aircraft & helicopters. The LCR outperforms current and future (planned) methods for 'stripping/de-painting' of aircraft.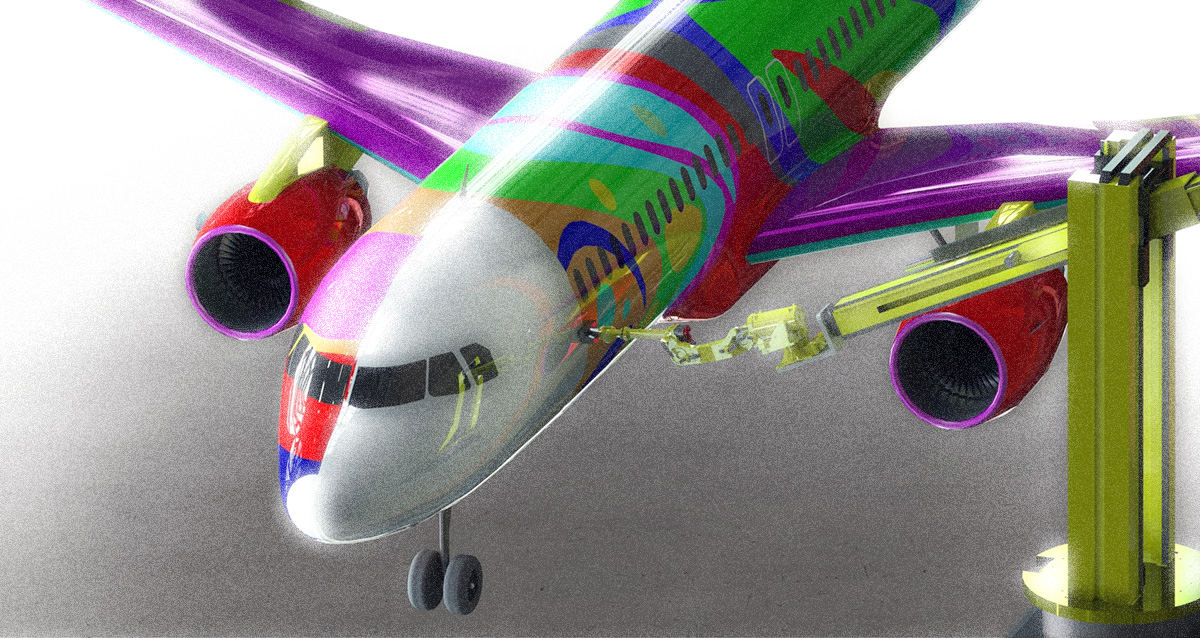 Technology
The LCR uses a 20 kW CO2 laser that can handle all paint colors. The laser evaporates and combusts the paint, while the paint effluent is immediately vacuumed from the surface and passed through the filtration system. The system has a built-in, closed-loop, color recognition and control system, allowing it to strip both metal and composite surfaces very accurately and make selective stripping possible. The laser is mounted on an 8 DOF robotic arm and a 4 DOF mobile platform and is controlled by specially designed software loaded in the LCR computer that has the capability to perform a geometric robot path analysis of the aircraft. This allows the LCR to follow the three-dimensional contour of the aircraft in an optimal trajectory. For safety, a forward scanner is mounted on the robot's end-effector to check the aircraft geometry in realtime.
The system will be available in four sizes: the smallest for small aircraft, such as fighter jets and helicopters, the largest for the A380. The system is fully autonomous and will be controlled by a single operator from behind a glass window separated supervisory room. The CO2 laser can remove the paint from the aircraft without damaging the metal or composite surface and will be fully compliant to the SAE MA4872A standard for thermal stripping, as early tests in 2012 showed. Furthermore, the LCR robot will comply with all safety requirements for labor and aircraft.
The LCR concept works with a new generation of high-power lasers and a unique, patented laser scanner to overcome all restrictions and limitations of the conventional methods of paint stripping. Typically, LCR shortens processing time by 50%, reduces cost per aircraft drastically, minimizes reliance on support facilities, and is compatible with all types of aircraft and helicopters, while being fully compliant with quality standards and regulations in the aircraft industry.
Benefits and operational characteristics
50% less processing time
90% reduction in labour
Low operating costs, minimum maintenance
Applicable for both metal and composite structures
Applicable to all sizes of helicopters and aircraft
Applicable for all colours of paint and coating
Allow selective coating removal (just top coat, primer)
Clean, no chemical waste, No dust generation, no clean-up
Robot is fully scalable in size, speed and auxiliary options
Easy to operate, fast set-up, single operator
15 Years lifetime, without major revision
95% COTS based components for the robot construction
Minimum hangar/paint shop support facilities
Easy positioning system with no equipment in the bay
Robot utilization optimization by sequential use in 2 bays
Cooling energy can be re-used for heating or cooling
Compliance with the SAE MA4872A Standard on Thermal Stripping
Compliance with EU, US, SG, BR, UAE quality and safety standard
CO2 Laser application suitability already confirmed by USAF